All Utpalasia programs, unless otherwise stated, contain the following:
media presentation
multiple dances
interactive audience participation segment
Q & A section
Utpalasia offers a wide range of interesting topics and has a unique and distinctive presentation style. We provide professional level arts and music tailored to our audience levels. Each program is the result of years of research, training, and planning to ensure that we not only entertain, but educate and stimulate the curiosity of our audiences.
Programs performed specifically for schools mesh with existing school curricula and state requirements, helping to reinforce and improve main subject areas, as well as introduce students to new topics not found in standard lesson plans.
Social Studies — intercultural appreciation and understanding
Language Arts — communication and storytelling skills
Movement — physical exercise and stamina
Mathematics & Music — counting, time cycles, beats
Spiritual Development — building familiarity with other belief systems
Memory & Reasoning Skills — sequencing, patterns, and designs
Creativity & Artistic Freedom — self-expression with audio and visual art
Social Skills — interaction and cooperation
For more information on our programs, kindly contact us.
---
Gods & Demons: The Wise One, the Demon with the Fangs, and the Chick with the Skulls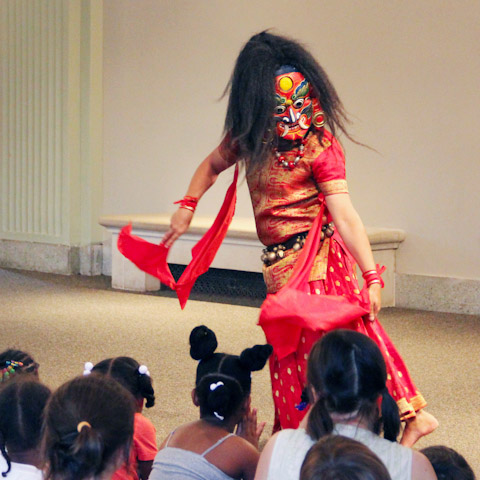 Learn about the life of Siddhartha Gautama, meet the founder of the Kathmandu Valley, be protected from evil spirits by a demon (yes, that's right, a demon), and become smarter by having your head chopped off (don't worry, you'll get it back at the end of the program). Learn why Buddhism is not a religion and why life is like a lotus. This program is suitable for all ages.
Why being rich isn't everything: the story of Lord Buddha
The guy who stayed behind: Manjusri, the god of wisdom
Demon spirits in everyday life: the Lakhe
Girl power in the 21st century: the Vajrayogini
Art with a how-to guide for life: astamangala and coloring mandalas (younger audiences)
Basic principles of Buddhism, or why meditating is like being in a burning house (all ages)
Do You Kathak?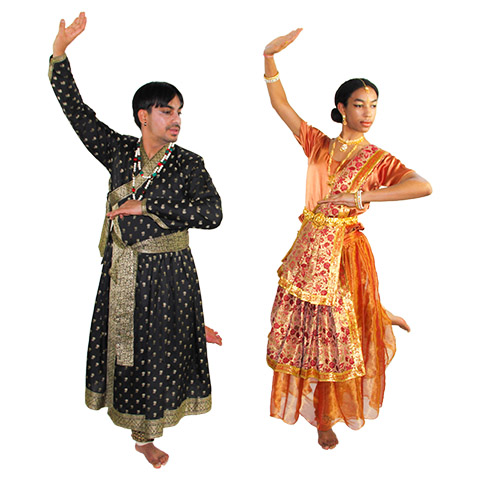 Kathak is one of the major classical Indian dance styles which originated in northern India and developed in large part after Hindu and Muslim cultures collided. This program promotes multi-cultural diversity, investigates the history of the dance, and gives the audience a taste of the technical and expressive components of Kathak. Recommended for adults and grade 3 and above.
What Muslims and Hindus have in common and how their artistic collaboration created today's form of Kathak
Purana Purity to Palace Pleasures: dance from the temple to the court and everything in between
Hand me my mudra! Talk without words
Learn the nine rasas (emotions), or how to make a face
Short hand movement and footwork workshop
Bollywood Babes, or "I'm ready for my close-up, Mr. Patel"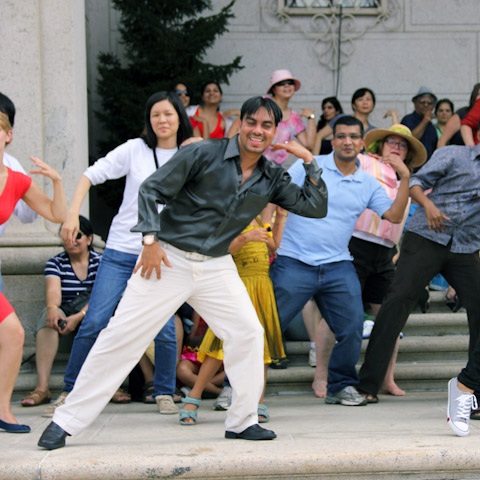 Mumbai's movie industry produces thousands of movies every year and has a global following in the millions. Audiences will get a behind the scenes glimpse of the technical skill, choreography, and enormous energy required to produce these glittering spectacles of modern cinema. This is one of our most popular programs and is geared for all ages.
The Silver Screen of India: where it came from and where it's going
So you want to be a Bollywood star? What it takes to be a dancer
Move it, groove it, and catch the fever: Bollywood medley dances and interactive high energy workshop
Himalayan Musical Journey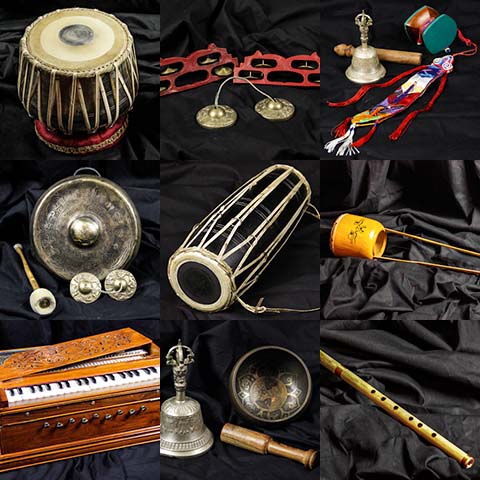 Students make audio art with traditional Himalayan instruments through hands-on activities, learn about time cycles, and improve their math, counting, and sequencing skills. This program is suitable for children K-6 and is especially beneficial for children with learning disabilities.
Blow it, slide it, shake it, tap it, hit it: play traditional Himalayan instruments
From sound to music: feel the rhythm, and catch the beat
Fingers and hands make the best calculators: the math of time cycles
Dancing in the Shadow of Everest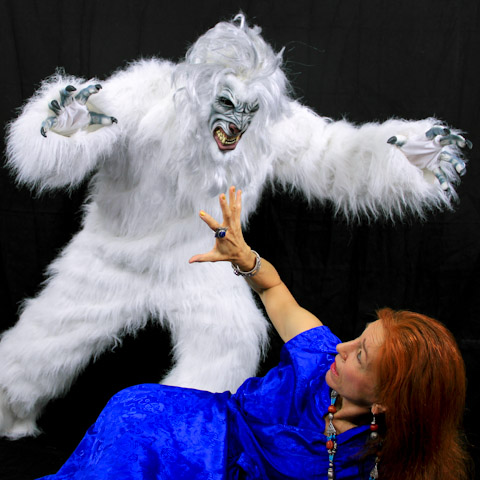 We explore the myths and legends of the Abominable Snowman and get a glimpse into the everyday existence of people in Nepal. Learn how dance, music, and village life create a strong social bond and network between all the diverse ethnic groups. Dancing in the Shadow of Everest is suitable for all ages.
The mythical mountain creature with a bad attitude: the yeti
Yak, yak, yak: let's chat about what it's like to live in Shangri-La
Dance to traditional songs of Himalayan villages