Nepal is a country nestled in the Himalayan mountain ranges. It is often referred to as a "yam between two boulders," meaning that it has a strategic location between India and China. Until recently, it was one of the last Hindu monarchies in the world.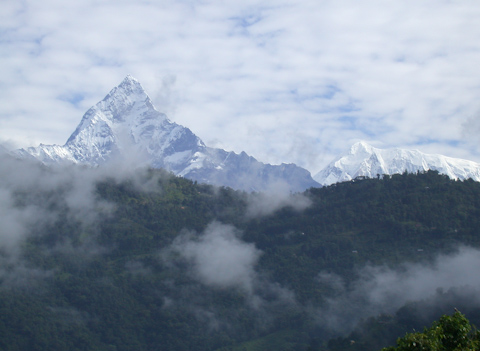 The country has a varied geography with virtually every kind of climate, from warm lowlands and valleys to the cool Middle Hills and the icy heights of Everest. Seven of the tallest peaks in the world are located in Nepal, and the natural beauty of Nepal has led to country being nicknamed Shangri-La, the last paradise on Earth.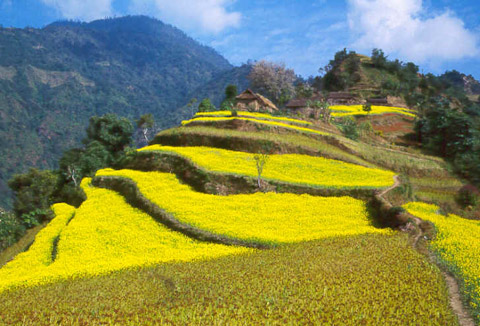 The Terai region, near the border of India, is home to some of the most endangered animals in the world, including the Indian rhino and the Bengal tiger. Nepal is also a haven for ornithologists, with over 900 bird species; there are 643 species of butterfly, many of them extremely rare. The rhododendron is the national flower, and one of many thousands of beautiful plants that dot the landscape.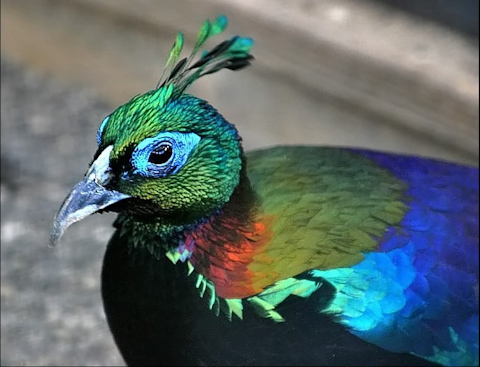 Nepal's population is roughly 31 million and it is composed of over 102 separate castes and ethnic groups. To see this diversity, visit our Faces of the Himalayas.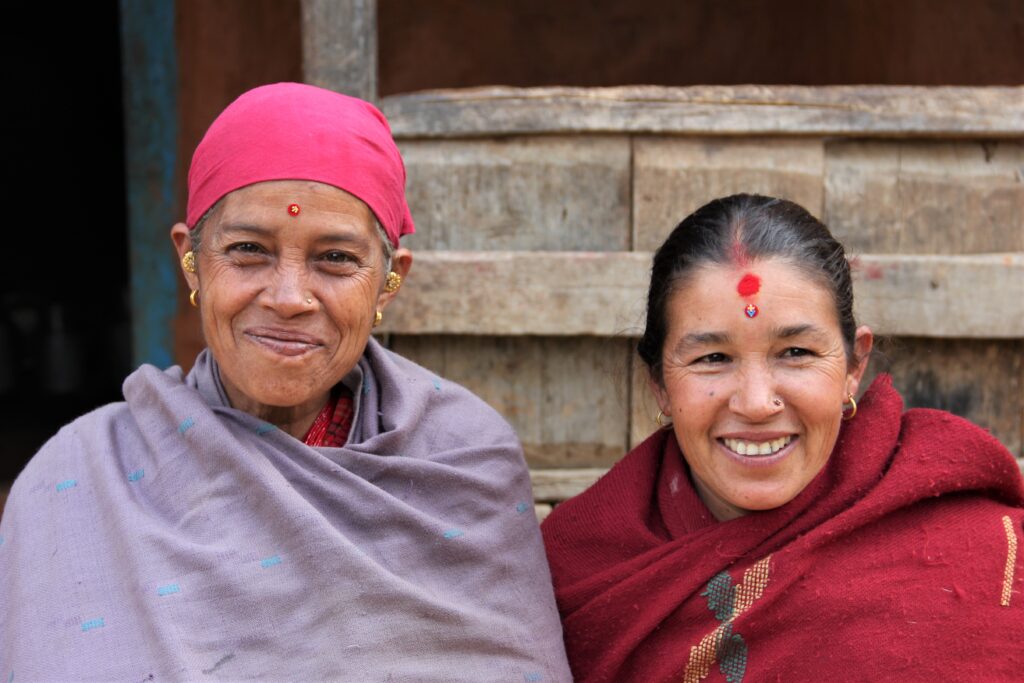 The country has over 127 spoken languages. Nepali, the official language, is closely related to Sanskrit and is a member of the Indo-Aryan language family.
Being one of Earth's more exotic locations, Nepal, or elements of its culture, have been shown or used in books, films, television programs, and video games throughout the years.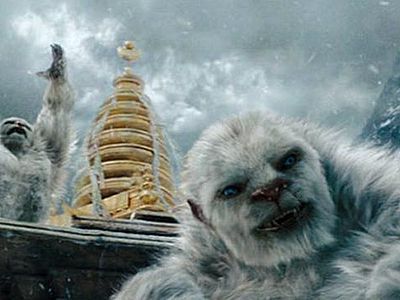 Movies and games such as Raiders of the Lost Ark, The Mummy: Tomb of the Dragon Emperor, Lost Horizon, Himalaya, The Expendables 2, Monsters, Inc., Uncharted 2: Among Thieves, and Tomb Raider: Legend are just a sampling of some of the many works which prominently feature Nepal.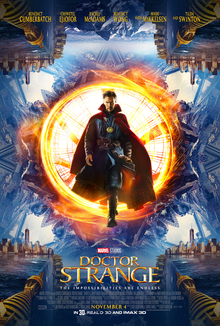 Khukuris, curved Nepali knives, have appeared in everything from Dracula, Game of Thrones, and Resident Evil: Extinction to Team Fortress 2, World of Warcraft, League of Legends, and Halo: Reach. Phurbas, three-sided daggers used in rituals, have appeared in the The Shadow and Uncharted 2: Among Thieves.
Dance
Nepali/Himalayan Folk
No festival in Nepal would be complete without folk dance, the beautiful sounds of the madal, and singing. There are almost as many different types of folk dance as there are tribal and ethnic groups in Nepal. However, they all share the similar themes of love, romance, courtship, happiness, and grief.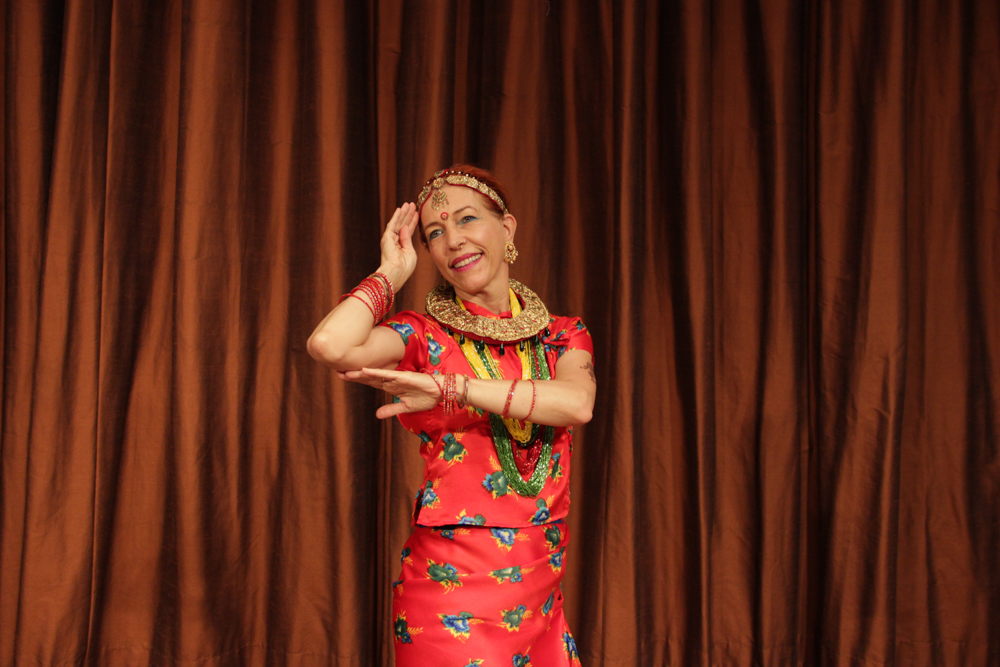 Dances also often portray elements of nature, animals, and birds. Colorful, ornate costumes are worn, many of them accessorized with rich gold jewelry and elaborate hair decorations.
Village Folk Dances
Jyapu-Jyapuni, or Dhimey (traditional farmer dance)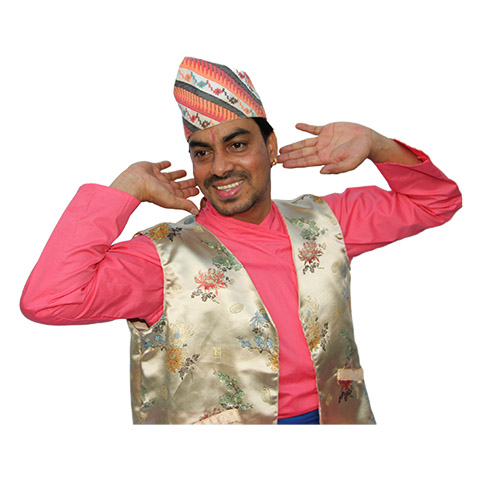 Other Traditional Dances
Sakhiya: Western Nepal women's dance for Dashain Festival
Jhumare: Women's circle dance
Kirtaniya: Satyanarayan puja
Nachari: Shaivites for Maha Shivaratri and Basant Panchami
Bhagata: For Kali and Sokha
Dhimal: For fishermen on rainy days
Indra Apsara: Thimi medieval dance of heavenly nymphs
Lusi: Pestle – Satirical dance for social and political life
Dances of the Hills
Maruni: Eastern Hills
Sorathi: Gurung-Western Nepal
Ghanto: Trance-like dance of the Gurungs
Tamang Selo: Group dance of the Tamang
Shebru: Sherpa
Sakela: The Rai of Eastern Nepal
Terai Dances
Horiya: Tharu dance for Holi Festival
Mungrahawa: Tharu stick dance
Kaharba: House-to-house dance in Terai
Jhinjhia: Dashain Festival
Jat-Jatin: Mithila region in monsoon time
Sama-Chakwa: Fifteen day dance beginning on Chhat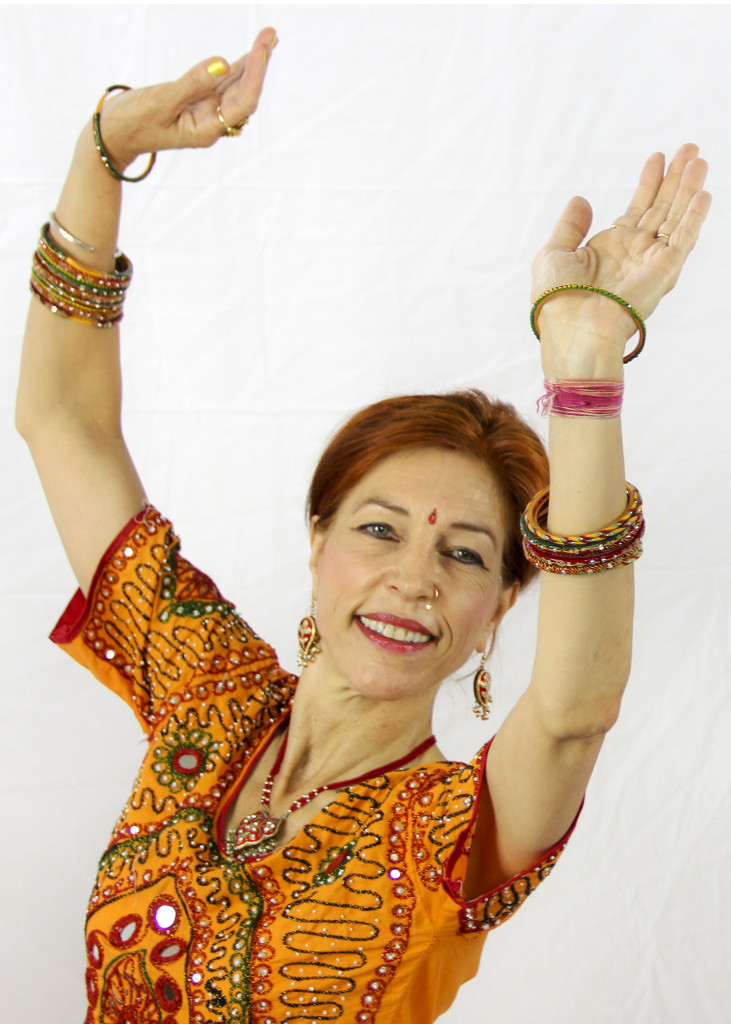 Newar Buddhist Lakhe
The Lakhe dance is one of the most highly requested Utpalasia dances for programs and productions. It is performed during the Indra Jatra festival in the Kathmandu Valley at the end of the monsoon season.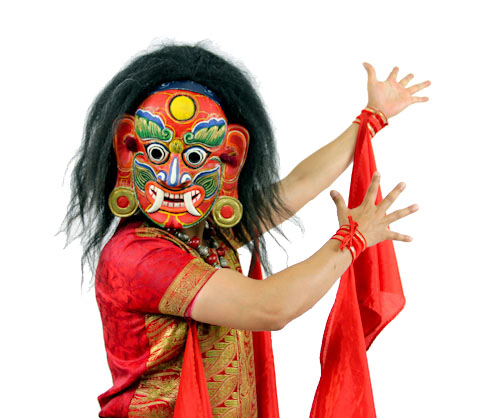 As the 'king of the demons' the Lakhe serves to protect the residents of the city from evil spirits and misfortune. With his wild yak hair and terrifying face he searches for hidden demons, his bells jingling loudly as he makes his way through the streets, moving spontaneously to the music of cymbals and drums.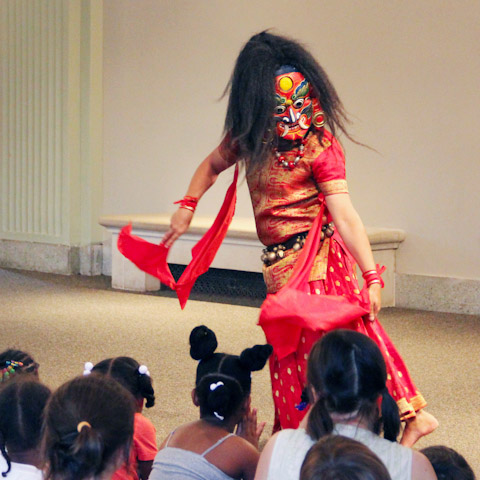 This Newar dance is in the Vajrayana Buddhist charya tradition in which the artist mirrors the deity.
The following is a list of the most well-known Newar dances:
Mahakali: Indrajatra Festival
Bhairab: Indrajatra Festival
Nava Durga: City of Bhaktapur
Lakhe: Indrajatra and Krishna Astami Festivals
Monkey: Masked dance based on the Ramayana
Khyak: Supernatural beings dancing for the pleasure of the gods and goddesses
Kawan: Skeleton evil spirits
Devi Daitya Sangram: Battle between a goddess and a demon
Food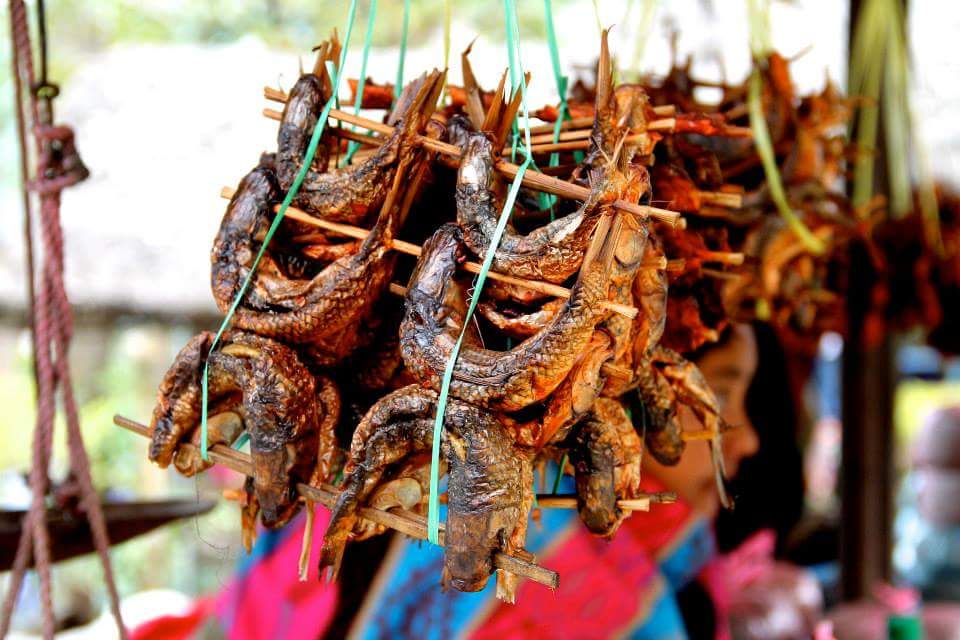 Food, along with religion, is at the center of most festivals and holidays in Nepal.
Religious scriptures dictate which foods are permitted and which are taboo. Caste also plays a role in whether or not a family is vegetarian or non-vegetarian. In Nepal, orthodox Brahmins forgo meat consumption. Beef is never eaten, since the cow is both sacred and the national animal of Nepal.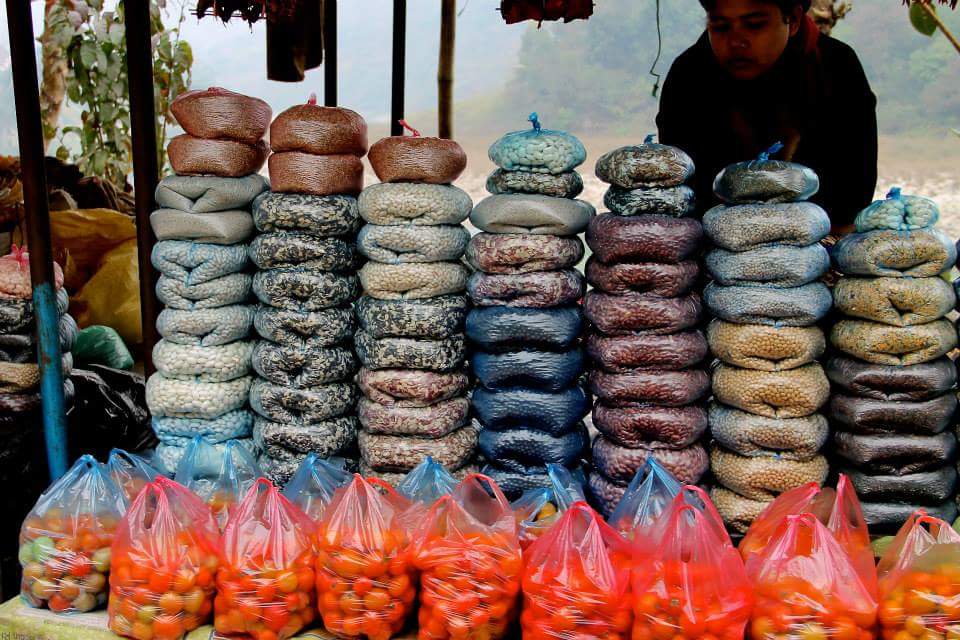 Geography determines preferred tastes. In the Terai there is an abundance of tropical fruits and vegetables. In the Middle Hills and valleys, one generally finds rice paddies, along with barley, corn, wheat, and bean cultivation. In the High Himalayas the influence is more Tibetan, with Sherpas inhabiting the land. Their diet is richer in fats to sustain them in the colder climate.
The national diet consists of dal-bhaat (rice and lentils) with tarkaari (vegetables). The common saying goes "Dal-bhat power, 24 hour!" and there is virtually no dish served in Nepal that does not include it. Food is well seasoned, though not as spicy as typical Indian dishes.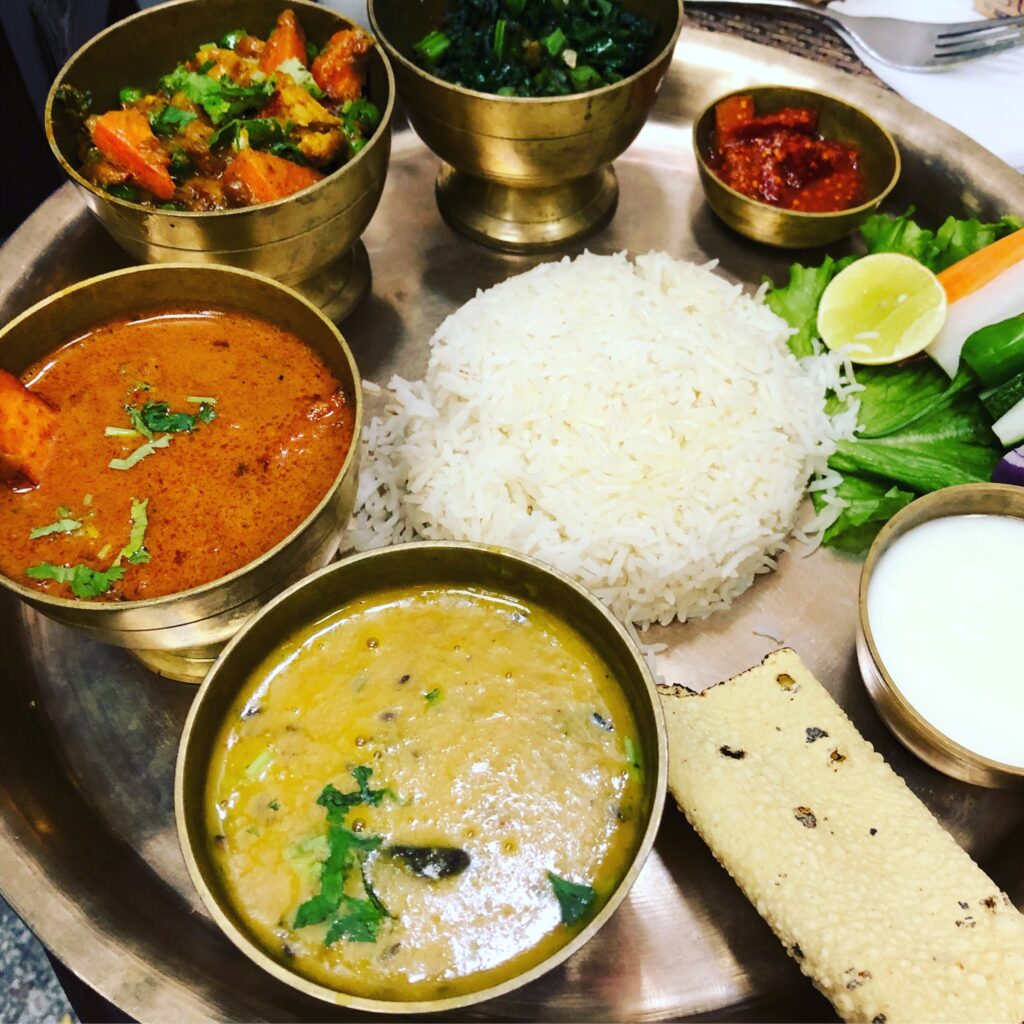 Food is generally eaten by hand (the right hand only), and water is consumed from a vessel without the lips ever touching the spout. Roti, a type of bread is served along with achaar, or pickle. Momocha, steamed dumplings, are a favorite specialty, as are various snack foods, served with chiura, or beaten rice.
Tea (chiya) is the typical drink, but stronger spirits, such as raksi (homemade fermented alcohol made from rice, millet, and barley) and the softer chhang (from rice, wheat maize, and millet) are widely available.
Let's Get in the Kitchen!
Chicken Curry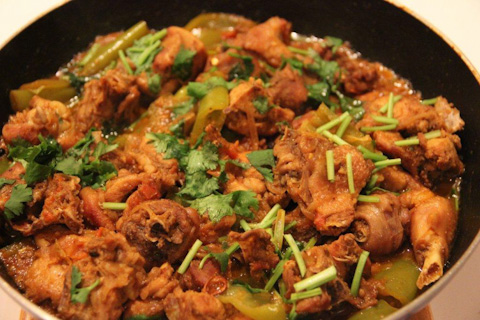 Ingredients
2.2 lbs of skinless chicken w/fat cut off, cut into 2 in pieces (any part, preferably with bone)
7 oz chopped red onion
7 oz chopped cherry tomatoes (nearly ripe, should still be firm)
4 chopped Hungarian sweet peppers (if you can't find these, use 2 bell peppers as a substitute)
0.35 oz grated ginger
0.35 oz grated garlic
Small bunch of finely minced cilantro
½ tsp turmeric powder
1 tsp garam masala powder
½ tsp cumin powder
1 ½ tsp salt (or according to taste)
3 bay leaves
3 tbsp oil (preferably mustard oil)
Pinch of chili powder or a dried chili, broken in half
⅔ cup water
Directions
Heat oil in a heavy metal pot or skillet on medium heat.
Lightly brown the onions.
Add bay leaves and chicken and cook for 5-10 minutes, stirring occasionally.
Add ginger, garlic, turmeric, garam masala, cumin, chili powder/dried chili, and salt (if desired) and cook for 5 minutes, stirring frequently.
Add the chopped tomatoes and peppers and cook for 6 minutes, stirring occasionally.
Cover and cook for 6 to 10 minutes, stirring occasionally.
Add ⅓ cup water, cover again, and cook for 8 minutes.
Sprinkle chopped cilantro over dish and remove from stove. Let dish sit 1 minute before serving. Serve with Basmati rice and eat by hand for an authentic experience.
Mixed Bean Soup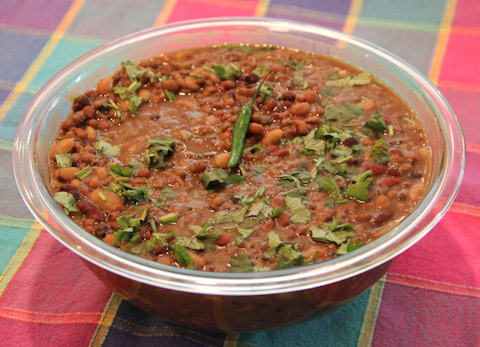 Ingredients
Half an onion, chopped
4 mashed cloves of fresh garlic
1 mashed thumb-sized piece of fresh ginger
½ tbsp turmeric
½ tbsp cumin powder
½ tbsp garam masala powder
1 ½ tsp salt
Pinch of chili powder or dried chili, broken in half
2 medium tomatoes, chopped
2 bay leaves
2 tbsp mustard oil or 1 ½ tbsp ghee
2 cups boiling hot water
Directions
Soak 1 ½ cups mixed beans in cold water overnight. Drain and wash beans the next day.
Heat oil or ghee on medium heat in a pressure cooker (a deep iron pot can also be used, but cooking times will be longer).
Fry chili and bay leaves until browned.
Add chopped onion and fry until browned.
Reduce heat slightly, add turmeric, cumin, garam masala, garlic, ginger, tomatoes, and salt. Stir, cover, and simmer for 1 minute.
Stir in beans and cook for two minutes on medium heat.

If using a pressure cooker: Add two cups boiling water, cover, and wait until pressure cooker whistles four times (about 15-20 minutes).
If using an iron pot: Add ½ cup boiling water, cover, and cook for 10 minutes. Add ½ cup boiling water, stir, and cook for 10 minutes. Add 1 cup of boiling water and cook for a further 10 minutes.

Check bean consistency and taste. They should be soft, but not mushy. If they are not soft, continue cooking, checking beans frequently. If soup is too salty, add a small amount of water and let it come to a boil. Repeat as necessary.
Serve dish on its own or with roti or naan bread and Basmati rice.
Religion
Hinduism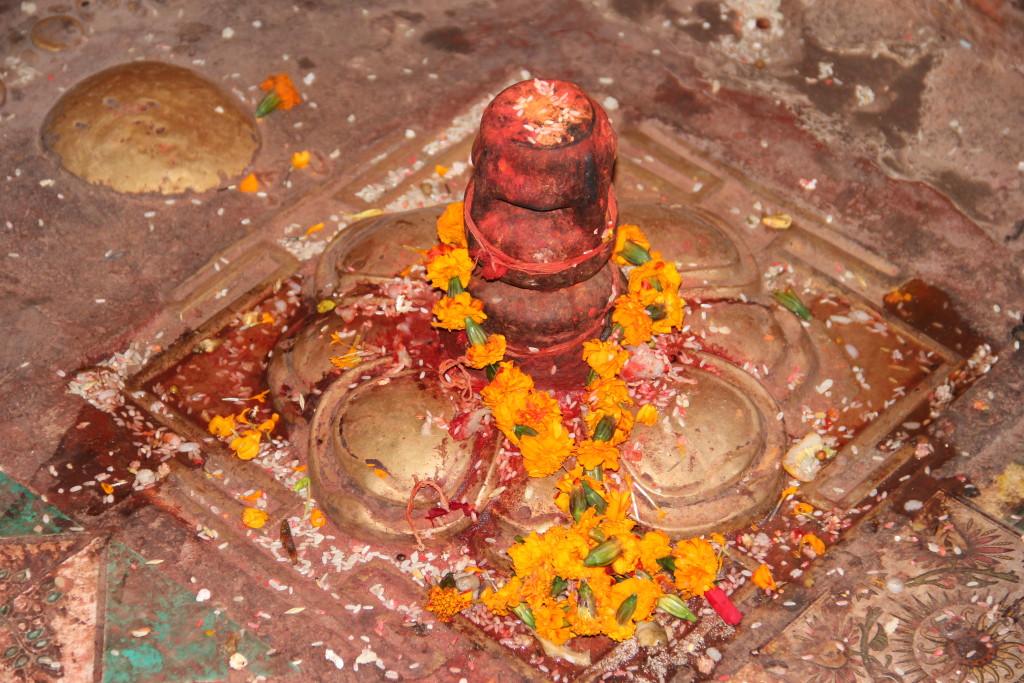 Although most of the religions of the world are practiced in Nepal, Hinduism and Buddhism are without a doubt the dominant belief systems of the country. While most of the population is Hindu, Buddhism carries great weight with most Nepalis, and is equally observed and respected.
The kings of Nepal were all devout Hindus, and were believed to receive their powers and an affirmation to rule through the blessings of the Kumari, the Living Goddess, a prepubescent girl who must possess the prescribed thirty-six special attributes in order to be nominated and accepted. She leaves her palace and abdicates her reign with the onset of puberty. Although she rejoins society, she may never marry.
Contrary to what many people think, Hindus believe in one god; however, that being may be manifested in endless avatars or forms. The pantheon of Hindu gods is extensive, and includes thousands of lesser deities as well as the triad of supreme beings: Shiva, the Destroyer, Vishnu, the Preserver, and Brahma, the Creator.
Ganesh, the elephant-headed god, rides a mouse and is the "Remover of Obstacles". Durga is another extremely popular and frequently worshipped deity. She is usually shown with multiple arms riding a tiger and slaying demons. Known as the Mother Goddess, she is the personification of the victory of Good over Evil.
Hindus pray and perform puja (making an offering to the god) on a daily basis. Festivals are usually geared toward worship much more than the commercialized holidays of the West.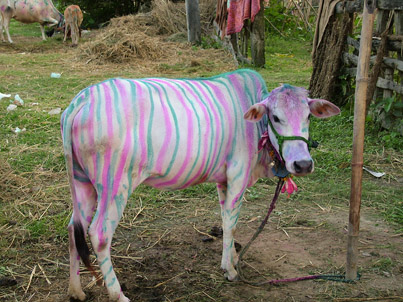 Buddhism
Lumbini, in the Terai, is the birthplace of Lord Buddha, and the area is on the list of UNESCO World Heritage sites. In Nepal, the two dominant groups who practice Buddhism are the indigenous Newar population, and the large group of Tibetan refugees.
Boudha and Swayambhunath remain the center for Buddhists; the areas are famed for their monasteries and monuments, particularly Boudhanath, with its recognizable set of Buddha eyes painted on the stupa.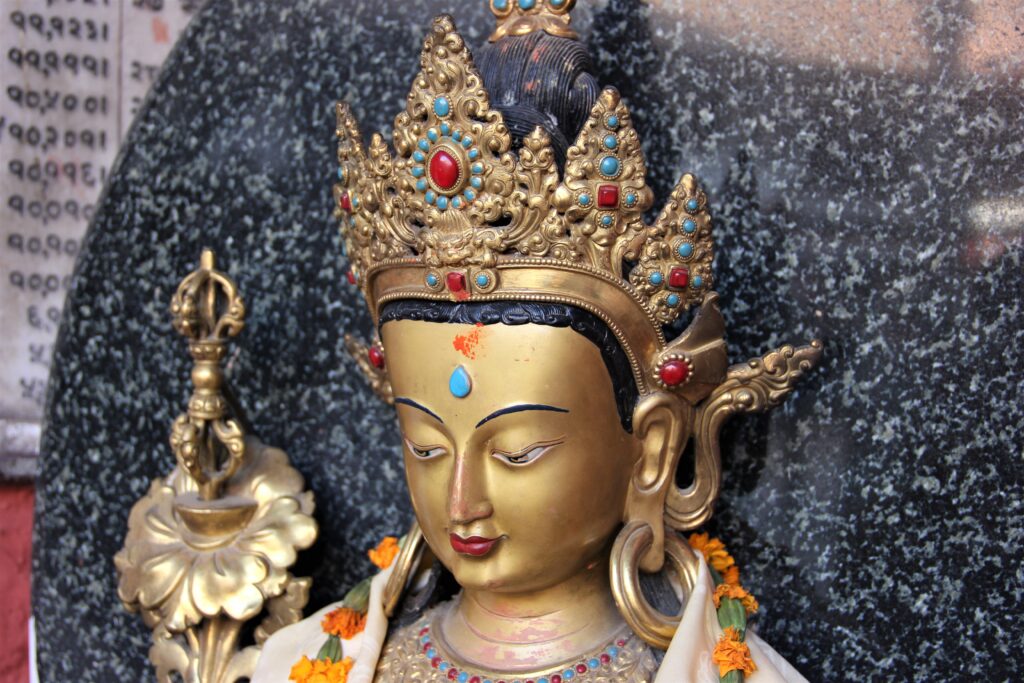 Festivals
Nepal has more festivals than days in a calendar year. These mostly religious festivals form the backbone of the social fabric of the nation and often vary according to ethnic group, belief system, and location.
Festivals serve multiple purposes in Nepal. They unite families and groups, are the focus of worship, and also provide an outlet for communication and interaction between villages and urban areas.
Unlike most of the West, Nepal follows the Vikram Sambat lunar calendar. The festivals noted here are given with their Nepali month and the Gregorian (solar) calendar equivalent.

Music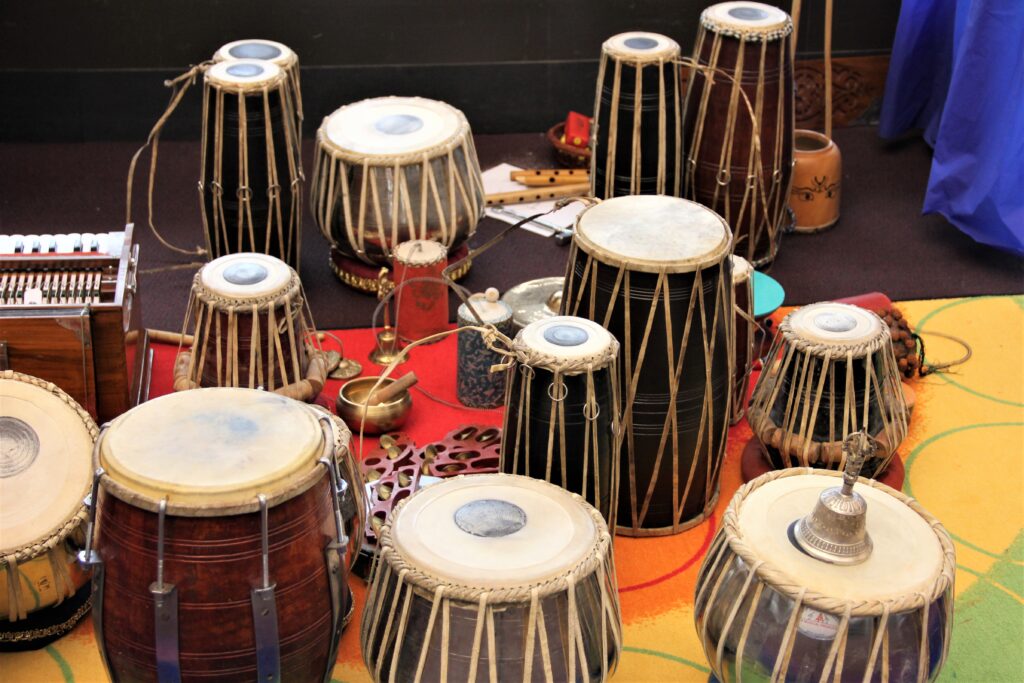 Madal
The madal is the best-known folk instrument in Nepali culture. From big cities to the countryside, all year round, whenever there are festivals, weddings, parties, or small gatherings, the madal is ever present. Although mostly providing accompaniment for traditional songs, it can be part of any instrumental group, either classical or modern.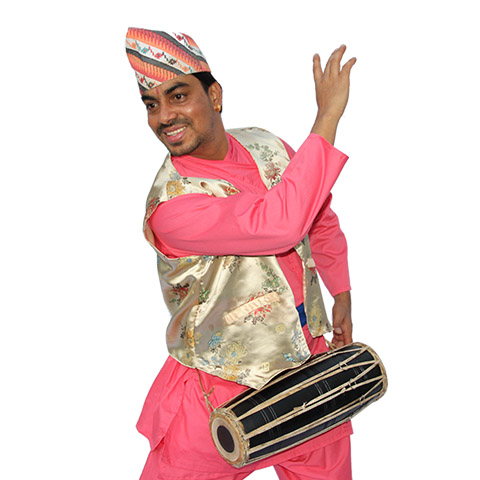 The madal is a two-headed drum; one side provides the bass, while the other gives a higher pitch sound. The cylindrical body of the madal, which is hollow, is made out of a special kind of wood. Animal leather, such as goat or ox skin, covers both of the heads, which differ slightly in size, and are tightened by leather straps. The center of each head is covered with a paste made from a mixture of soot, straw, ashes, cooked rice, and iron shavings. This is what produces the mellow sound of the madal.
The madal is played by using both hands—fingers and palms—to strike each side of the instrument simultaneously or alone, thus creating two distinct sounds at the same time. There are literally hundreds of patterns for the madal; an experienced artist can shift from one to the other without missing a single beat and provide continuous accompaniment for dancers, singers, and other musicians.
Other Himalayan Instruments